An Ovarian Cystectomy is the removal of ovarian cysts or tumors, while still preserving the ovaries.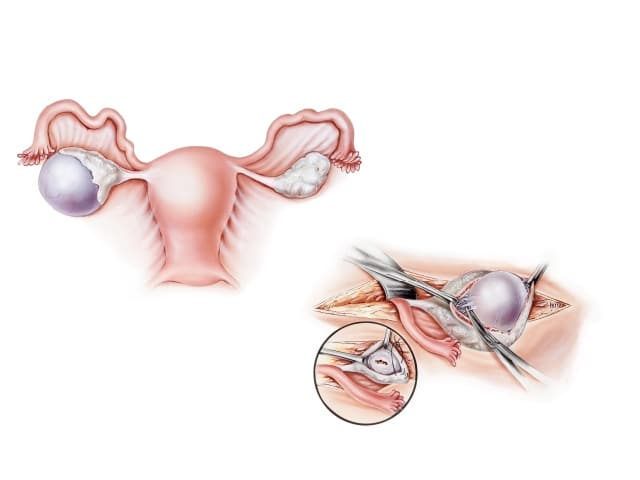 Ovarian cysts are common, and your doctor can decide on the best treatment and procedure for you based on the size and the type of the cyst or tumor, your age, and possible malignancy.
An Ovarian Cystectomy almost always is done with a minimally invasive procedure that involves small skin incisions, using laparoscopic or robotic techniques.
If a cyst is suspected to be malignant, full removal of the ovary might be necessary in order to avoid rupturing and spread of the cancerous cells into the pelvic area.
Removing of the cyst from the ovary can affect your ovarian reserve. Discuss with your doctor the best approach. Ovarian cystectomy requires an experienced surgeon that could minimize the damage to healthy ovarian tissues during the procedure and minimize the damage to the ovary.
Once the cyst is removed successfully, it is always sent for testing to rule out malignancy.
After a minimally invasive procedure, recovery is quick and pain is usually minimal. This procedure is an outpatient procedure, and patients are up walking within hours.
Patients can usually go back to normal activity and work within 1-2 weeks.
To relieve pain, your doctor may prescribe you medication.
Dr. Moawad applies a minimally invasive technique on all of his patients' procedures, with a 10-year streak of high sucees in minimally invasive surgeries for various conditions. His international and national reputation, paired with his publications, successful procedures, and support for patient advocacy groups, has created an atmosphere of trust and accomplishment. At CEAPS, we work on empowering our patients with an optimal minimally invasive approach that will lead to a quick recovery and fast return to normal activity while improving their quality of life.