These are the most common procedures performed at CEAPS. We perform minimally invasive approaches for most of our procedures. Dr. Moawad believes that there is no condition too complex for a minimally invasive surgery, and has spent his career training, advocating and speaking about such techniques.
Endometriosis Excision is a procedure that removes Endometriotic lesions that could be located in the pelvis or outside the pelvis depending on your case. The removal of all endometriotic lesions is essential to relieving the pain caused by this disease.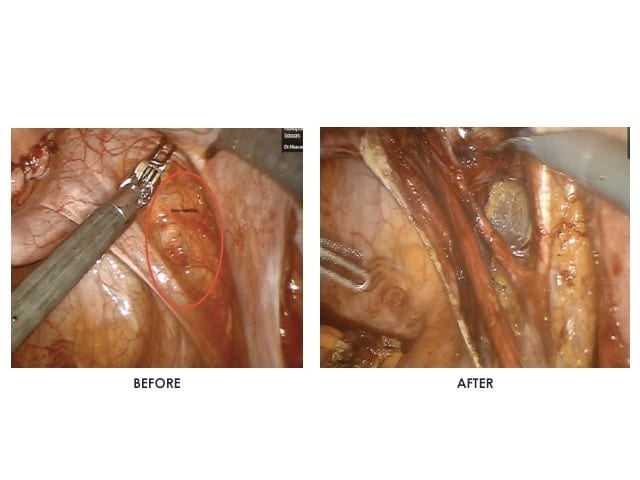 This procedure is minimally invasive through Laparoscopy or Robotic Surgery, and allows for management of pain and infertility associated with Endometriosis. It is the gold standard to manage this condition.
Endometriosis excision requires advanced surgical skills and well trained surgeons, especially in cases of deeply infiltrating endometriosis, where the surgical anatomy is challenging for inexperienced surgeons.
Endometriosis Excision, through only a few small skin incisions, using a thin camera that is inserted into the pelvic area, allows the endometriotic lesions to be cut out and removed.
Endometriosis treatment requires a comprehensive management plan set up with your doctor. Excision followed by appropriate management could help reduce the risk of recurrence of the disease.
While recovering from an Endometriosis Excision, you may experience:
Pain that should resolve daily
Pain around site of incisions
Chest and shoulder pain
Vaginal spotting
Nausea caused by anesthesia or pain medication
Swelling of arms and legs due to fluid retention
Swelling of the abdomen due to irritation of intestines
Constipation
Diarrhea caused by antibiotics
Urinary retention
Bruises or scars around the incision areas
You should be able to get back to full activity and work shortly after the procedure. This depends on each patient and their personal recovery time.
Sex should be avoided for at least 2 weeks after the procedure, and should only resume once you are feeling comfortable.
Dr. Moawad is a fellowship-trained surgeon with a decade of experience in successful minimally invasive procedures. With both an international and national reputation, and working along with patient advocacy groups and educational platforms, Dr. Moawad continues to educate and publish his work on these kinds of procedures gaining expertise and credibility around the world.
At CEAPS, we believe in offering options that guarantee better outcomes for our patients. As Dr. Moawad puts it, "There is no condition too complex for minimally invasive surgery." We exhaust all options before opting for open surgery as a last resort.
Call us or request an appointment with Dr. Gaby Moawad to address your condition.